1. Carrie Underwood
In 2020, Carrie Underwood showed off her toned legs in this dramatic, sequinned gown which was complete with a BDSM-inspired thigh slit featuring three black buckles. We've never seen a look like this paired with puffy sleeves and sequin, but the mish-mash of aesthetics is so glorious, we're hoping she wears it a second time.
2. Kelsea Ballerini
We fell head over heels for Kelsea Ballerini in this Raisa Vanessa dress from 2020. Like the best country stars, she rocked the sparkle with a little country, and a little rock'n' roll. Cowboy boots pair with a uniquely interpreted animal print dress and some draped sequins. Blondes really do look amazing in red!
3. Nicole Kidman
This A-list actress always shows out in her finest garb to support her husband Keith Urban. This look is rocker chic with a dose of elegance and a little boudoir inspiration. The plunging neckline and lace aspects give off a lingerie vibe, while the billowing sleeves and ribbon-wrapped heels provide a more memorable outfit.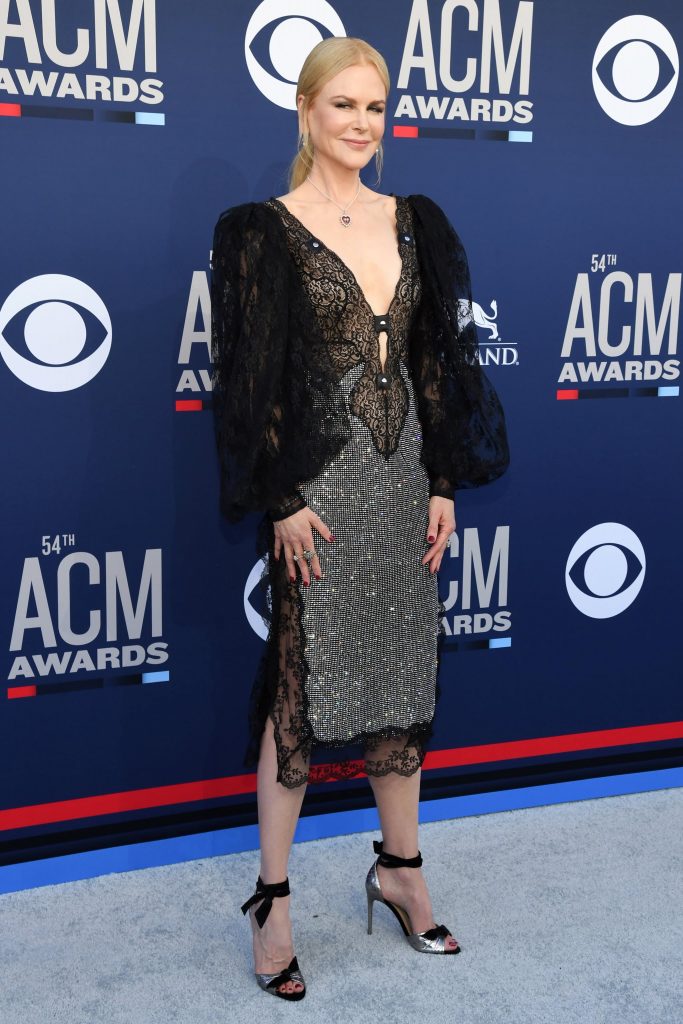 4. Kacey Musgraves
We've never seen a hippie-inspired suit like this before! Kacey Musgraves looked like a straight-up mermaid goddess when she wore this Christian Cowan suit back in 2019. Bellbottoms and matching billowing sleeves were worn in a daring topless rendition, with an open jacket.
5. Bebe Rexha
Precious member of the country world Bebe Rexha wore this sculptural gown by Yanini Couture back in 2018. The form-fitting black column dress was adorned with a top half that we've never seen before. A dramatic, semi-sheer drill then extends into sheer sleeves with stunning embroidery detail.
6. Maren Morris
Kid Rock and Guns n' Roses would be proud of this super extra lavender mini dress, complete with a super dramatic train. The ultimate mix of high brow and low brow fashion, this dress was designed by Christian Siriano and worn on the ACM carpet in 2019 by Maren.
7. Rebecca Romijn
Ever since she starred as the slinky, body-paint covered Mystique graced our screens in X-Men, Romijn has been the queen in showing off your bangin' bod in the classiest way possible. Here she is wearing Uel Camilo in 2018 — the beadwork on the dress is mesmerizing on its own (especially how it separates below the knee) but what really caught fans' eyes was the sheer side paneling on the non-beaded bits.
8. Lindsey Vonn
Of course, Christian Siriano has shown up twice on this list, because he's the king of designing daring and dramatic dresses. This canary yellow look combined a tight-long sleeved turtleneck upper with a tulle ballgown bottom that any Disney princess would feel lucky to wear.
9. Savannah Chrisley
One glance at this sheer dress and it's clear that this was an audacious pick. Still, we can't think of a better way to show off cleavage. We adore the geometric cutout nature of this velvet dress, which blends the aesthetics of elegant Hollywood glam infused with contemporary details.
10. Shakira
This Latina bombshell is known to wear adventurous ensembles, so obviously when she attended the Academy of Country Music Awards in 2014, she brought her smoldering brand of spice and set the bar high for others on the red carpet. The unique circular cut-outs (resembling scales) on this Zuhair Murad outfit combined with a dark turquoise hue make the singer look like a reptilian seductress. She can slither up to us anytime.